Philippines
Marooning
Comfort mode
Basic cottage with comfortable bed and shower
This secluded house is equipped with a basic kitchen
Solar energy available
On the first day our team will provide food to be cooked during the week
The Robinsons have also the chance to find their own food
Not far from mainland
The beach will be rented privately
High Isolation Level
Rental of a native style bamboo wooded house with kitchen and bathroom, located on a deserted beach 3 km away from the eco-resort with no possibility of access by land.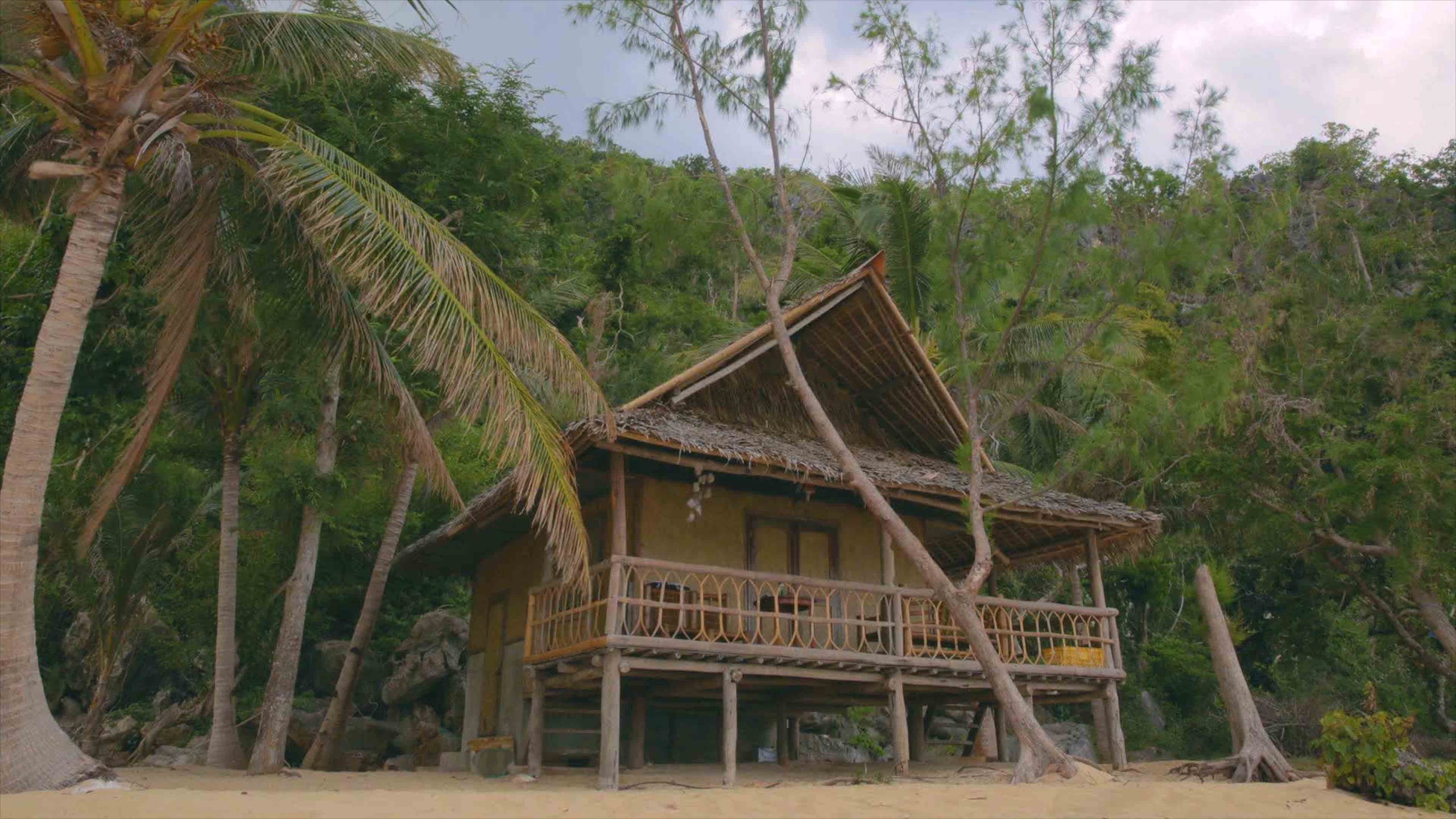 The clients will have their own kitchen on this secluded beach house rental.
OPTION A – Clients can purchase food on the first day upon arrival at the local airport. They will be helped by the staff in the town. Additional food can easily be bought on the following days from a nearby fishermen's village which can be reached using their own canoe. Guests will cook their own food. Possibility of having a chef from the eco-resort to cook, and of daily cleaning in this silent retreat (to be hired separately).
OPTION B – If docastawayers should run out of food, or maybe prefer not to cook on a particular day, or either want to change their menu or simply wish to get "civilized" and be with other humans, they can always go to the eco-resort with their own canoe to eat at the restaurant. They can also order food by phone and the staff will bring the meals to the Marooning cottage by speedboat.
In Marooning, you and your partner or friends will be alone. There will be neither a guide nor staff unless specifically required. If you need to interact with the "civilized world" you can always pay a visit to the eco-resort which lies behind the island, some 20 minutes by canoe, or ask for help and staff will immediately visit you by means of a speedboat. There are some villages 15 km away and canoes can often be seen sailing near this silent retreat.
The feeling of isolation at Marooning is HIGH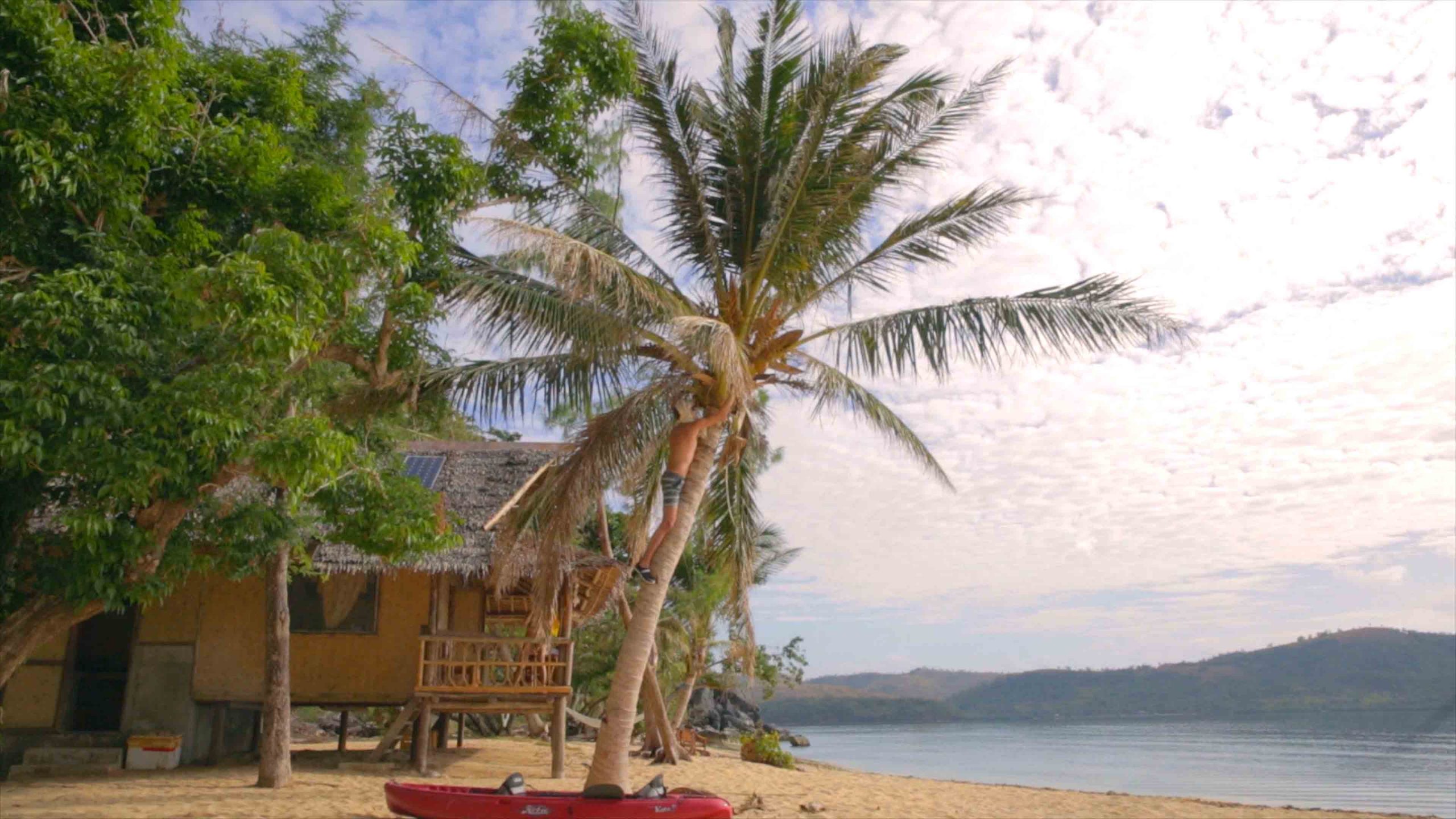 Contact with outside world
Our team will stand by for the client on a resort on the opposite side of the same desert island 24/7. The castaway will have a cell phone. In case of emergency we would be able to reach the island in 15 min. In case the client need water, hot meals our team will go to the Marooning beach house to provide the items.
The Robinsons will be also provided by kayaks to be used in case they want to move around or visit the resort just behind their isolated beach.
On this remote beach there are not really dangerous animals. There are monkeys, some small and harmless pyton snakes and previous clients have spotted centipides. In the sea there are some harmless blacktip sharks who are scared of humans. Only stepping on a stingrays with bearfoot could be a problem if you are alergic to its venom. Therefore we recommend to walk on the water with shoes. However we have never heard of anyone having a problem with stingrays so far. Only swimming could be a threat as the currents could be strong if you go far away.
A very economic way to feel like a castaway
The marvellous coral reef just right in front of your house
The chance to enjoy daily hot meals for an extra money
Marooning beach rental is located in a isolated part of Philippines. First the client would need to fly to Manila (flight booked by them but we will assist during the process). Once in in Manila they will need to take a domestic flight to a remote area in Philippines (that internal flight will be booked by us). Arrival at the local airport, our team will welcome the client and bring him by private car to buy some food at the local market, then to the harbour where a boat will be ready to sail to the island. The client will probably need to overnight in Manila on the first day but on the next day it's possible to reach the island in the evening.
Marooning is available all year round. However, if you wish to enjoy the most sunny days you should then go from December till June
Previous Clients on this island
Since 2012 many clients have choosen this secluded beach cabin for rent as it is probably our most economic desert island where to enjoy a few days completely alone. Despite our clients are normally keen of keeping their own privacy. Some of them were happy to share their photos or videos with us. In 2015 the beautiful American couple Polly and Jared spent their honeymoon at this private beach cottage and made this wonderful video. You can find more previous castaways at Marooning on our Blog and also on our Facebook page. 
.
*Our price is valid for 2 people travelling to the island and staying at least 9 nights. If someone go alone(SOLO) he/she would need to assume most of the cost of the second person. For SOLO castaway we recommend other islands we have available which are more economic.
The price per person and per night on this island is 80 Euros.
For a experience of 5 nights the cost would be around 900 Euros per person.
(we do not recommend to stay for less than 5 days at any island as they time required to reach is high)
You will also have the chance to get your own fish
A kayak will be provided for the freedom of movement